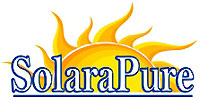 The original Blue Glass Solar Water Bottle from SolaraPure.
Accept No Substitute!
Benefits of Blue Solar Water
Blue Solar Water is a symbol of purity and life. It brings joy.
Blue Solar Water can be used to help remove recurring problematic "memories" or programming that runs in your subconscious, freeing you from their effects. It may even help remove blocks that you're not aware of since it works at a subconscious level.
In the book Zero Limits by Joe Vitale, Dr. Hew Len says that the body loves lots of water.
Fill your blue bottles with water and set them in the sun.
Rinse off with it after showering…
Wash Fruits and vegetables in it…
Use it for anything you use water for such as cooking.
Make Coffee with it!
Make hot tea with it!
Water houseplants with it!
It's important to drink a lot of water, in addition to the benefits of blue water, having several bottles of water to work through helps to make sure you drink enough during the day.
Children love to have "blue water", especially at mealtime.
Our bottles are NOT PAINTED and are 100% Cobalt Blue Glass. Many blue bottles are painted and do not offer the same benefits. if these are painted overseas, you may also run the risk of lead-containing paint. Therefore, we never advise using any painted color bottle for drinking water.